Process optimization with Self-Cleaning Candle Filters
With a producer of Crop Protection chemicals such as pesticides and herbicides, we worked out a filtration process optimisation. When they were investigating the plant downtime they found the filtration played an important role.
The solution was the installation of two Self-Cleaning Candle Filters, resulting in a reduction of plant downtime and waste as well as an improvement of the working conditions for operators. Furthermore, the filters give a significant product recovery by reusing the process liquid.
Production of Dichlobenil
Since the early nineties, they've been producing dichlobenil – a base chemical for several pesticides and herbicides – through a renewed environmentally friendly process. By means of a catalytic gas-phase ammoxidation reaction base chemicals form dichlobenil. The product is formed into crystals by a sublimation process. Crystals grow to a certain size before they are captured with a Belt Filter that captures particles down to 20 microns. However, when the process conditions are not optimal, smaller particles are being formed as well. This led to product loss and heavy fouling of heat exchangers and pumps. To avoid fouling process operators are constantly busy to keep the process operational and bag filters are frequently backwashed and interchanged. To avoid contact with the product a solution had to be found.
In the Liquid Stream after the Belt Filter, two (2) fully automated Self-Cleaning Candle Filters were installed. Particles that passed the filter media of the Belt Filter are retained on the Self-Cleaning Candle Filters. After automated cake discharge, the recovered particles are recycled into the stream towards the Belt Filter. Because of the prolonged residence in the system, the particles have grown further and are now captured by the Belt Filter. The Self-Cleaning Candle Filter (SCCF) is a proven polishing filter in which a variety of filter materials can be applied. For this typical application, a cloth of 0,5 micron was installed to assure the effective removal of all particles.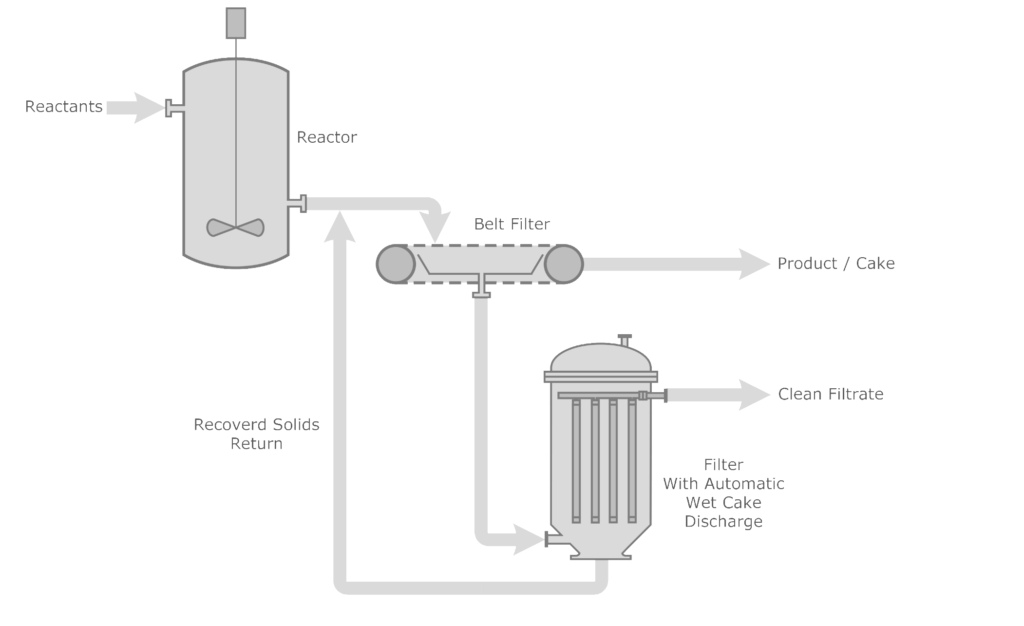 The SCCF is a very flexible filtration solution, which can be used for many other products as well. The filtration method is based on a vertically positioned filter element with a filter cloth attached around it. Unfiltered fluid flows from outside to inside and flows into the rising tube in the centre of the candle. Cleaning of the cloth takes place by an air pulse (or inert gas) or a fluid pulse from the filtrate side. While one of the units is being cleaned the second unit is in operation and thus the continuous operation is achieved.
A big advantage of the SCCF is that it is fully enclosed and can be fully automated. For this process, the two filters were supplied as a prefabricated skid and were completely integrated into the client's control system. The implementation time was short, and the operators can check the complete functioning from the control room.